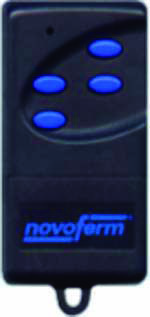 SYNCHRONISING NOVOFERM ROLLING CODE REMOTE CONTROLS
The Novoferm remote control can only be synchronised directly on the receiver.
Direct synchronisation procedure on the receiver
1. Open the receiver and press the button located inside until the LED begins to flash.
2. Then press the button on the remote control and hold for approximately 3 seconds until the LED begins to flash quickly.
Take the following steps if the facility has a ceiling-mounted motor.